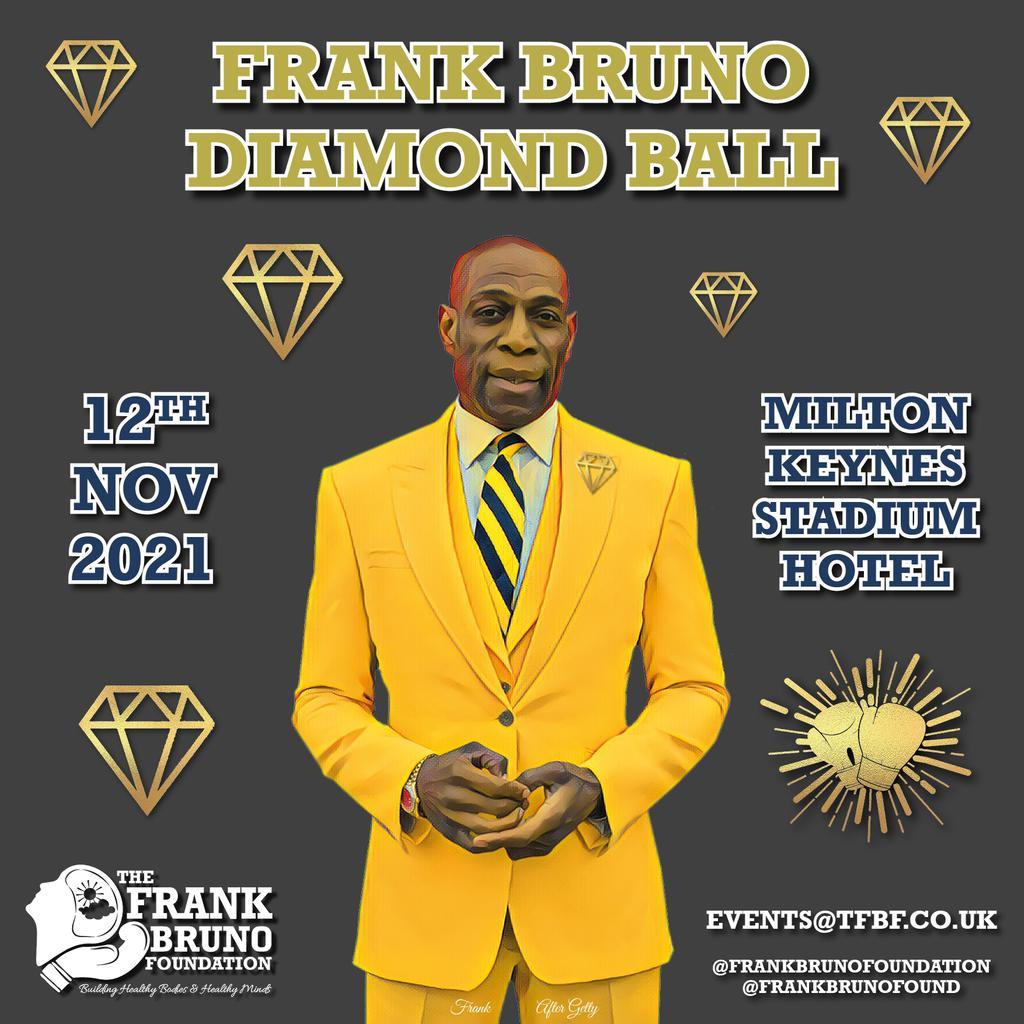 Frank Bruno Diamond Ball 2021
12th November 2021 – Milton Keynes Stadium Hotel The Frank Bruno Ball co-insides with Franks 60th Birthday and as a supporter of the Foundation, we are offering tables to you first before we open the sales up to the general public. The evening will celebrate the opening of the Northampton centre & we announce our second in East London. We will have fun casino tables; musical entertainment and we want to raise as much money as possible for the Foundation and the work we are doing helping people with mental health problems. Our courses have started and new clients are being referred to us every week. We have a waiting list of people who want to use our services. As a charity we are now proactive; we do not just sit back and talk-the-talk. Frank is actively involved and often drops into the centre, much to the delight of our clients.
"Let me be Frank" Available to order now.
"Let me be Frank" picks up Franks life story from the end of the last book it's been 12 years since Franks last book and a lot has happened.
Frank's new book is the truthful and definitive account of the care he received after he was sectioned twice in the space of six weeks in 2012. Frank speaks openly about the treatment he received in Basildon Hospital and St Andrew's and the failures that he believes he suffered at the hands of doctors.
But Frank came through his illness, has rebuilt his life and has and restored the relationship with his family after they made the decision to call in doctors against his wishes.
Frank tells of the new fight he has now embarked on to try and help people with conditions like the one he suffers from. He also tells of the heartbreak of recently losing his mum, who was a tower of strength in the darkest days. Frank's book also sees him reflect on having to say goodbye to two of the people who had the biggest impact on his career: his idol and Muhammed Ali and beloved friend Harry Carpenter.
Let Me Be Frank is also an opportunity for Frank to reflect on his remarkable boxing career – 2017 is 35 years on from the day he first stepped in the ring. So the book revisits some of the highlights of Frank's career.
Frank also speaks about his belief that boxing needs to do more to support fighters who develop mental health problems in the ring – and reveals how he is in the process of setting up a foundation to help use non-contact sport to rescue people from their illnesses.