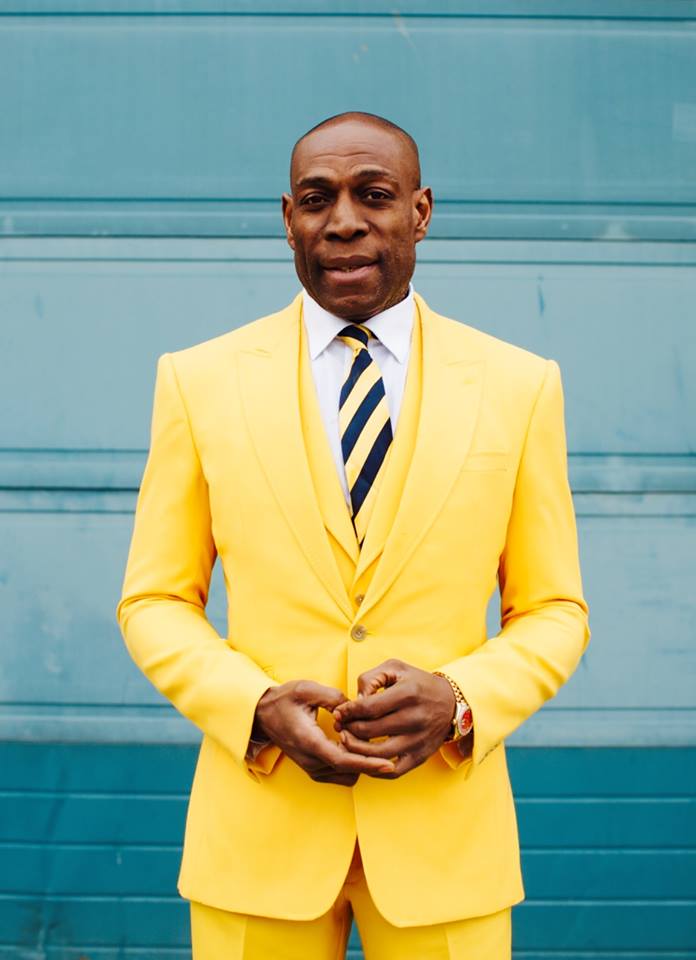 You're a National Treasure

Frank when I watch you fight, I'm happy that I didn't come along now. I know you're a good man and have a nice personality and you're not bad looking either

You've been an inspiration to many thousands of young people who have seen in you someone who from very modest beginnings has achieved great things

Until you've seen Bruno in the flesh... you're looking at a man that is almost chiseled out of marble.  I don't think the man on the street  has any idea how powerful he is, how just a touch could floor you or I or anybody else

This man is amazing.  He has gone in to the hearts of this entire nation
The Man – Frank Bruno
Frank is the father of 4 children – Rachel, Nicola, Franklyn and Freya.
He was awarded an MBE in 1990.
He is physically fit and stays active.  Frank goes to the gym daily, and boxing is still part of his training routine.  He has run the London marathon and 2 others, and has run quite a few half marathons to support various charities, the most recent being the Newcastle half marathon in September 2015.
He is an accomplished actor performing alongside Michael Barrymore (with record box office sales), he played Robin Hood in Bristol and Bradford alongside British comedians Little & Large, as well as Ringmaster in Goldilocks and the 3 Bears in Birmingham.  Frank has appeared in numerous TV programmes including Comic Relief, playing Juliet to Lenny Henry's Romeo, The Sooty show 2011, 2012, 2014, and Harry Hill's TV Burp twice.  He has been featured in many TV adverts – 2 for HP sauce – 1990s, Kleenex – 1989, and Now Compare.com – 2015.
He has a real love of music.  Some of his favourites include Gregory Isaac, Bob Marley, Michael Jackson, Sting, Shabba Ranks, Beenie Man, Ray Charles, George Michael, Mary J Blige and Sammy Davis Jr.
Between 2004 – 2012 Frank worked all over Europe making personal appearances, TV shows, and voice over adverts.  Notable TV appearances include The Sooty Show, The Royal Variety Show, Piers Morgan, and Sports Relief.
In 2003 Frank was diagnosed as having Bipolar disorder.  His well documented illness put Frank in the public eye and he used this media attention to help with the stigma attached to mental health and to help raise the standards of care given to those suffering with mental health issues.  Frank supports many charities for mental health both financially and with his time.
The British public has been so supportive of Frank during this difficult time for him, and he continues to receive a warm reception wherever he goes.  Frank never takes this for granted and really appreciates his fans.  It is clear that Frank is still one of Britain's most loved sports personalities.
Frank now spends his working time on varied appearance requests. These range from "An audience with Frank Bruno" dinner events which promotors all over the UK book Frank for a Q&A session. A number of Charites use Frank for fund raising as Frank's name still sell tickets. For 2016 & 2017 a number of theatres across England and Wales have booked Frank for a Theatre show. Frank is pleased to do these as not every one of his fans can afford some of the prices of the dinner shows. TV and media wise Frank has more requests than he can actually fulfil. Generally the media want "celebs" when they have something to advertise. Frank has appeared a few times on the sofa with Piers Morgan, and Philip Scofield in 2016. The Mirror newspaper group appear to be most friendly to Frank let it continue! In 2016 along with the new website, launch of the merchandise range and announcement of the film the future looks rosy for "the young lad looking for trouble who made his way to become World Champion in boxing and peoples champion in the UK"
People who influenced and inspired Frank
GOD
ROBERT BRUNO – HIS DEAR FATHER
GEORGE FRANCIS – HIS TRAINER AND FRIEND
JOHN LEVINGTON – HIS FIRST AMATEUR TRAINER
TERRY LAWLESS – HIS MANAGER